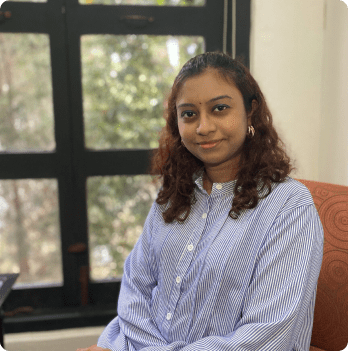 Fees
Individual/Child Therapy
50min:
SGD150
80min intake/extended:
SGD225
Family/Couples Therapy 80min:
SGD270
MSS (Professional Counselling), GDipSS (Professional Counselling),
 IntDip Psychology (Credit)
Mondays to Fridays 7pm to 9pm (Online only)
Fridays: 4pm to 6pm
Saturdays 11am to 2pm
English
Tamil
Liny Krishnan graduated from Swinburne University (ECTA) with her Graduate Diploma of Social Science and Masters of Social Science (Professional Counselling), alongside an International Diploma in Psychology from Informatics. As a volunteer at Nightingale Home, she counselled elderly residents and identified cases of abused individuals within the home. Her specialisation in family therapy and training in Solution-Focused Brief Therapy (SFBT) is grounded in her distinction in counselling research processes while in Swinburne. She has also completed training courses from the National Council of Social Service (NCSS) and family conflict management/mediation training at Eagles Mediation & Counselling Centre (EMCC).
Liny is highly experienced in the counselling field, with over 14 years of knowledge gained through working with individuals from all age groups (children and adolescents, adults and elderly). She has also supported distressed female domestic workers with her counselling services.
She first gained her counselling experience at the Family Service Centre (MSF), where she worked with clients presenting with a multitude of concerns including Interpersonal Issues, Depression, Low Self-Esteem, Anger Issues, Couple Issues, Family Conflicts, Trauma, Self-Harm and Abuse cases. She has also conducted couple and parenting talks for her clients to help address the difficulties they may face with regards to the responsibilities of such roles. She later went on to further her experience as a school counsellor, where she conducted parenting talks, art workshops, smoking cessation programmes and counselled at-risk youths. This has inspired Liny's strong passion for working with vulnerable children and adolescents.
Through conducting home visits for cases of self-harm cases and abuse, she active monitored the well-being of such at-risk populations, and remains committed to helping those who are not able to seek adequate help. She has also collaborated with many external agencies such as Ministry of Social and Family Development (MSF), hospitals, and Singapore Police Force (SPF) to better regulate the systemic safety nets for such youths. She believes in making a difference in their lives, thus providing simple and effective coping strategies to better manage the daily challenges they may face. For children and adolescents with a history of direct trauma/trauma-related events, Liny practices a trauma-informed approach centred around using art in her sessions. This empowers her younger, and sometimes less verbal, clients to communicate through art as a medium of expression. She thoroughly believes in adapting different therapeutic approaches to each individual's needs and challenges, and is dedicated to the process of uplifting clients as opposed to problem-solving issues.
Working with SPF and Ministry of Manpower (MOM), Liny has also counselled distressed female foreign domestic workers (FDWs). She managed the Centre for Domestic Employees and conducted various programmes for the domestic workers such as dance, sewing, and art classes. She has also provided basic mental health assessments to evaluate psychological stability, and has engaged external services from the Institute of Mental Health (IMH) in referring the domestic workers for further assessments. Liny believes in passing on knowledge, and also conducts supervised learning for interns and peer supervision.
Liny is effectively bilingual in English and Tamil.